Description
TACTICAL READY. A SERIOUS POWER HOUSE.
The Vaultek Pro VTI series is absolutely revolutionary. We didn't just think of what it would look like, we thought about every possible function for the gun owner.
It's these details that matter.
High-Density closed cell foam blocks moisture and will not react with lubricants to preserve firearm conditioning. Your gun will stay how you left it. It's the Gun Safe that does more than just hold your gun. When we created the VAULTEK PRO VT SERIES we knew we had to think of every possible solution for a serious gun owner. That's why we created the all-new VAULTEK closed Cell foam interior.
THE ANTI-THEFT DETERRENT
A Built in accelerometer monitors the safety, detects bumps, and impacts, and triggers an alarm on the safe and the VAULTEK app. So you'll know if someone tries to take it. It's personal security for your safe.You can sleep sound and work hard, knowing your VAULTEK PRO VT SERIES is constantly on the watch. You're never truly alone with VAULTEK. Your safe is on guard, ready, and always alert.
PRO VTI SERIES FAST ACCESS POINTS
5 Point Fast Access system to get you on your way

Vaultek APP – SMART SAFE TECHNOLOGY
The optional Vaultek Bluetooth® enabled App provides a highly interactive experience from your smartphone. You can perform multiple tasks including managing user accounts, tracking usage history, checking battery status, and even opening the safe.
Wireless access can be easily toggled on/off using the available hotkeys if desired and still maintain all other safe functions.
Immediate Access at the click of the button only available for the PRO VT SERIES.
Paired with the Vaultek App you can easily manage how you use your Vaultek Smart Key with 2 separate entry modes, and an option to disable it.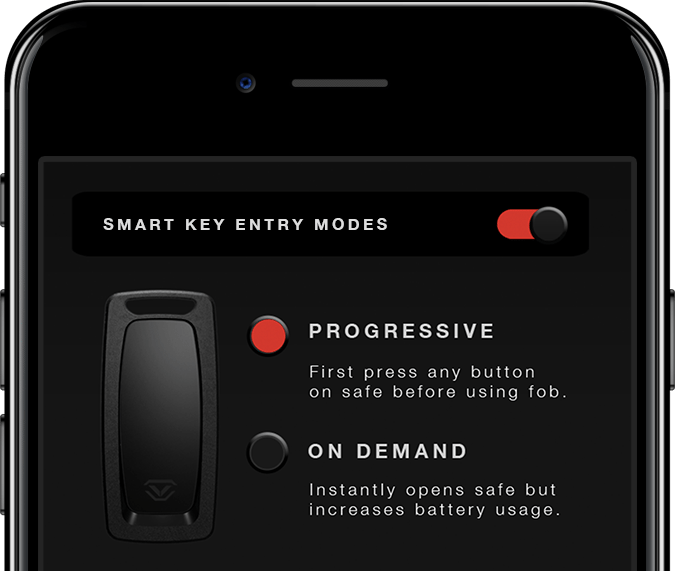 | | |
| --- | --- |
| Exterior Product Dimensions | 14.5" wide x 10.6" deep x 3.3" tall |
| Interior Product Dimensions | 13.7" wide x 6.5" deep x 2.75" tall |
| Construction | Progressive Formed 12-Gauge Steel |
| Weight | 16 LB |
| Biometric Storage Capacity (PROVTi) | 20 Unique Fingerprints |
| Biometric Imaging Speed (PROVTi) | 40 FPS |
| Biometric Sensor Area (PROVTi) | 9.0mm x 9.0mm |
| Biometric Sensor Pixels (PROVTi) | 176 x 176 Pixels @508 dpi |
| Backlit Keypad | 8 Button |
| Pin Code Length | 4-8 Digits |
| Battery Type | 18650 Rechargeable Lithium-ion, 3.7v 2200 mAh |